Conservatory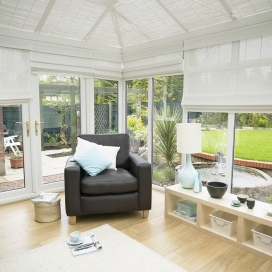 The possibilities are endless for conservatory or orangery blinds. Whether covering the windows or the roof or both we have a suitable style of blind at Blind Options.
Whilst a lot of clients choose rollers or vertical blinds which offer a vast choice of colours, weaves and textures including some solar reflective coatings, there are other options.
Venetians can be a good way to achieve a light airy contemporary look and give good versatility with shading and cooling.
Pleated Blinds allow light to enter but cut out glare and are available with solar reflective coatings to help reduce heat gain and can be used in the roof also as well as in the perfect fit system at windows or roof.
Solar films are being used more and more now in conservatories either with a reflective film or a tinted film and for polycarbonate roofs we have coolkote which reduces heat gain and glare in polycarbonate-roofed conservatories.
Pinoleum blinds are still a popular choice in larger timber orangeries and gently filter light creating a light and airy atmosphere; cooling and shading.
Blind Options has a solution for your conservatory shading to suit your requirements and budget.
Call Blind Options of York
Call Blind Options today to discuss your requirements for your conservatory.
For general enquiries please fill in the form on our contact page and we will reply as soon as possible. We look forward to hearing from you.